http://batonrougerealestateappraisal.com/ – Baton Rouge Home Appraisers: Baton Rouge Housing and Pet Odors Don't Mix Sales Tip!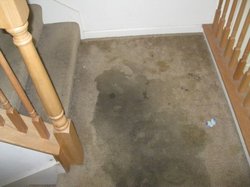 My Appraiser Friend in Sacramento California, Ryan Lundquist, just posted this interesting article, Letting the dogs pee outside is an okay idea | Sacramento Appraisal Blog . Image is from Ryan's post.
My Baton Rouge Home Appraiser for 20 years comments are these:
It's amazing how many people have pets, don't realize just how strong pet odor can be (owners get used to it), especially with cats, and we appraisers sometimes gag over the smells in people's homes….trying to maintain a smile during the inspection.
I appraised a home recently in Area 41 where pets had so smelled up the home that it took close to 550 days on the market to sell this under 15 yr old home at a huge discount. If the seller would have just invested $2,500 and changed out the carpet and removed the pet odor, they might have not lost about $15,000 on the sale.
Home Selling Tip For Pet Owners: When it comes time to sell your home and you've owned pets, move the pets to another location, change out the carpet and get rid of the pet odor. Ask others that don't live there to do the sniff test to make sure the pet odor is gone!
Tags: Baton Rouge Real Estate, Baton Rouge Homes, Baton Rouge Housing, Baton Rouge Home Appraisers, Baton Rouge Real Estate Appraisers, East Baton Rouge, Greater Baton Rouge, Baton Rouge Home Appraisal, Home Appraisals, Baton Rouge Realtors, Baton Rouge Real Estate Agents