http://www.ascensionrealestateappraisers.com/ – Ascension Parish FHA Appraisers: Ronda Place Subdivision 2010 Home Sales Price Trends. There were two (2) MLS sales and two (2) FSBO Sales in 2010. Overall sales prices are still increasing into 2011.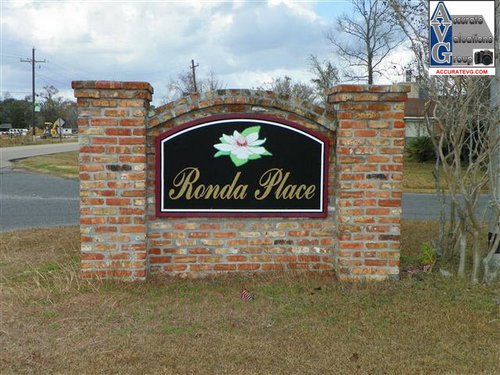 Home On Ronda Avenue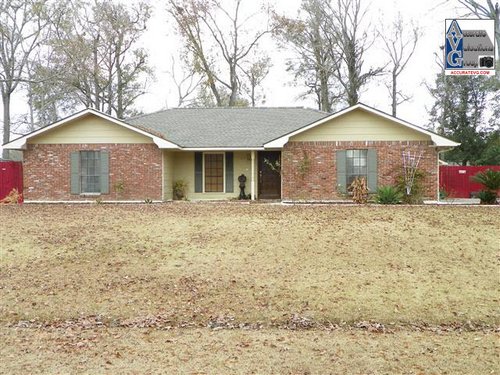 Solds In Ronda Place Subdivision from 1/2010 to 12/31/2010 revealed:
Average Sales Price: $157,950 ($144,967 in 2009)
Average Sold Price Per Sq. Ft.: $96.79/sf ($89.87/sf in 2009)
Median Sold Price: $157,950 ($149,900 in 2009)
Number of "MLS" Sales: 2 (3 in 2009)
Average Number of Days On Market: 37 (233 in 2009)
Low To High: $156,000 to $159,900
Number of Sold REO/Foreclosures Noted In MLS: 0
Current # Listings: 2, 1 Is A Foreclosure $116,900
Current Listings Prices: $116,900 to $199,900 or $75/sf to $81/sf.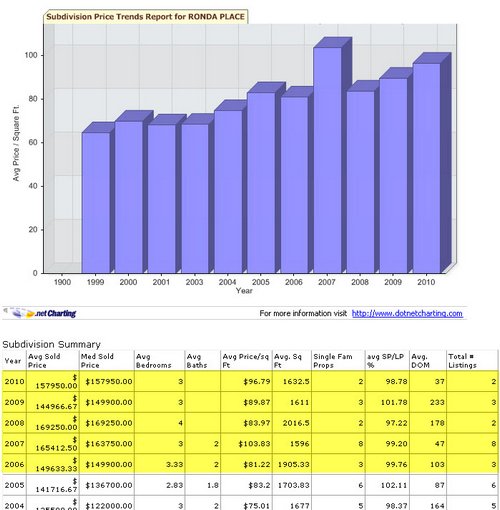 The $116,900 listing on Aimee Drive has 1,566sf living area. The $199,900 lisitng is "contingent" or under contract with the buyer's home waiting to sell and has 2,472sf living area.
LEGAL NEWS REPORTS 4 SALES. For Ronda Place Subdivision, Legal News reports four (4) total sales, two (2) FSBO Sales. Legal News reports that 17254 Eric Dr sold for $165,000 in February 2010. MLS history reports this home has 1,616sf 6/3/2 built in 1982 with a large 25×22 Workshop. So, this home sold for $102.10/sf.
Legal News also reports a sale of one of the smaller garden homes fronting Hwy 929 for $121,500 in November 2010, Lot 67-B. MLS History states this home to be 17230 La Hwy 929 having 1,200sf with 2 bedrooms, 1 bathroom and last sold for $99,900 in 12/2005. So, this home sold for $101.25/sf approximately. I use the word "approximately" because MLS uses the even "1200" sf, meaning that the home might not even have been measured for the listing, which is a disturbing trend I'm seeing more of in Greater Baton Rouge Real Estate.
This is the Foreclosure Listing on Aimee Drive!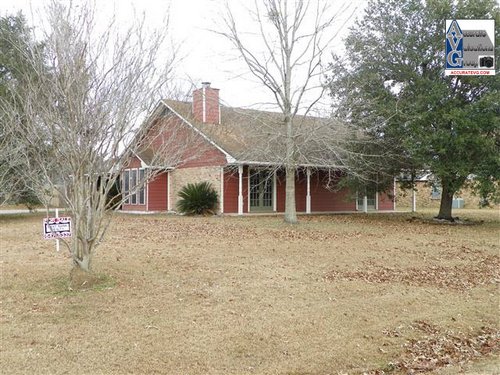 NOTE: Based on information from the Greater Baton Rouge Association of REALTORS®\MLS for the period of January 1, 2010 to December 31, 2010. This information was extracted on 1/1/2011. YES, this appraiser does have the permission of GBRMLS to use the chart above Subdivision Price Trends Report!
Tags: Baton Rouge Estate Appraisers, Baton Rouge FHA Appraisers, Baton Rouge Housing Market, Baton Rouge Real Estate, Baton Rouge Real Estate Housing, Baton Rouge Real Estate Trends,