The Disconnect Between What Comps Real Estate Agents and Appraisers Select…and Why It Matters!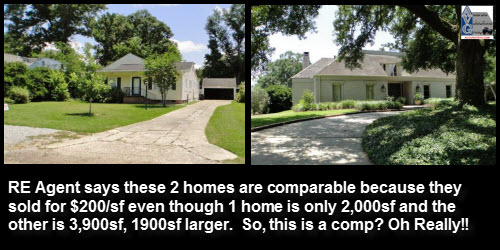 The Image above is for illustruation purposes only.
Overview. This is a candid discussion by a Home Appraiser with 20 years experience about the proper selection of comparables for marketing a listing and to help get the appraisal approved through mortgage underwriting. This is primarily regarding comparables pricing and living area size. It's assumed that comps would be selected within a reasonable distance and sold within the last 6 months. The example given below is by no means the only case of this taking place. It's already happened at least 3 times this year. Nothing said here is intended to disrepect RE Agents!
I had another home purchase appraisal this year where there was an obvious disconnect in the manner in which RE Agent was trained to price homes.
The Home. Without providing exact detail for confidentiality, lets say the home is 2,300sf living area on 2 lots in a Garden District. Home is priced between $400K to $500K and is pending at close to $460K, which is close to $200/sf.
My Research. Before appraisal inspection was setup, my office asked the Agent for the comps used to market the home. This is an attempt by me to communicate with that Agent and avoid an "appeal" later. If and when the home doesn't appraise, I can say that I asked. Agent only said it was a difficult home to price. I checked MLS for comps (solds and listings) so I could take the photos of comps while in that market. Upon checking, I only found 1 possible comp for support. I contacted the Agent again for comps and received an MLS CMA of 1 true "Comp" and 7 "Sales".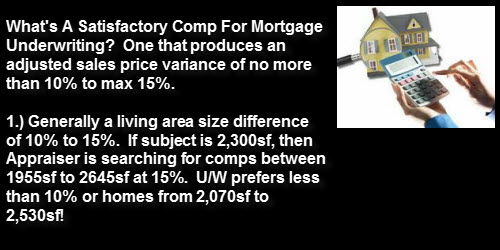 What's A Satisfactory Comp For Mortgage Underwriting? One that produces an adjusted sales price variance of no more than 10% to max 15%. Generally a living area size difference of 10% to 15%. If subject is 2,300sf, then Appraiser is searching for comps between 1955sf to 2645sf at 15%. U/W prefers less than 10% or homes from 2,070sf to 2,530sf!

The Obvious Problem With Agent Training On Comp Selection! The reason I stated Agent sent me 1 true "Comp" and 7 "Sales" above is because the Agent simply selected 8 Sale in the same MLS area that had a similar sold price per sq. ft. to $200/sf. Remember that we stated above subject has 2,300sf living area and mortgage underwriting tolerance for difference in living area are 10% to 15%, preferably under 10%. And, 10% to 15% of $460,000 is a comp range to select comps from between $391,000 to $529,000. Here are the "sales" sent to me by the Agent and only the first in blue is even remotely relevant to the assignment:
2,253sf, = Very Close, sold for $420,000
3,192sf, = 917sf larger, sold for $615,000 or $199/sf
3,283sf = 1008sf larger, sold for $725,000 or $221/sf
3,586sf = 1311sf larger sold for $707,000 or $197/sf
3,981sf = 1706sf larger, sold for $765,000 or $192/sf
4,501sf = 2226sf larger, sold for $850,000 or $189/sf
4,658sf = 2383sf larger, sold for $890,000 or $191/sf
5,535sf = 3260sf larger, sold for $1,090,000 or $197/sf
I challenge the reader to stop and look very carefully again at the numbers above and what took place here and ask yourself why an Agent would think there's a remote comparison from a $460K home to home selling in the $615K, $725K, $707K, $765K, $850K, $890K to $1,090,000 range. There is no remote relevance…..yet this just took place in my market. So, why are RE Agents taught by their Brokers to do this? Good Question!
To the Appraiser and Underwriter, both are left scratching their heads when an RE Agent simply doesn't understand why they're sending the Appraiser these sales in the first place. In some cases, the Agent only understands that they need "comps" for homes that sold for $200/sf to support the appraisal. What the Agents simply don't understand is that these comps have to make logical sense and result in gross and net adjustments below 10% to 15%. What does that look like?
THE RIGHT COMPS AND HOW THEY IMPACT GROSS/NET ADJUSTMENTS FOR FAVORABLE LOAN APPROVAL! In the Grid of Comps used above from a different appraisal, the living area sizes are close to subject's 2,857. And, the GROSS and NET adjustments are well below 15%. The underwriter was pleased with this report.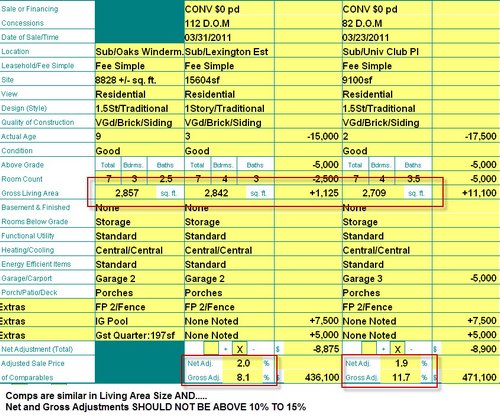 THE WRONG COMPS AND HOW THEY IMPACT GROSS/NET ADJUSTMENTS! In this example, the comps living areas differences between 2,857sf and 3,842sf and 4,709sf are just not comparable, var too widely, and result in Gross/Net Adjustments over from 18% to 38%. This appraisal would be heavily scrutinized and loan probably would not close!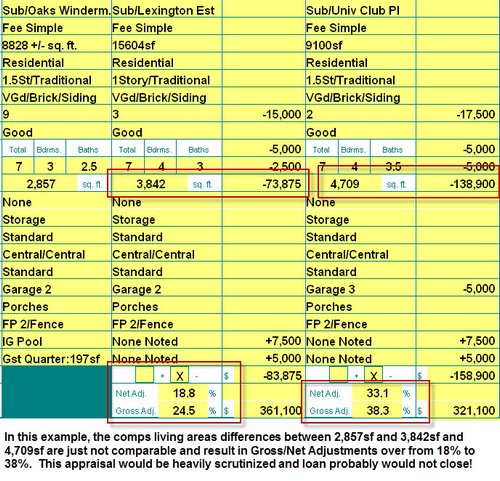 The Point I'm Trying To Make! It just seems to me like what was sent to me above was based on an effort to find support for "sold price per sq. ft." relevance versus actual comps that would result in only a 10% to 15% variance, which is underwriting tolerance. Only 1 out of the 8 sales sent to me was actually helpful.
Conclusion. Home Appraisers are not out there trying to kill your purchase deals. When pricing a home, the absolute first job of the Agent is to calculate the living area of that home accurately How this is accomplished is up to the Agent as to whether this is hired out or not. Also, remember mortgage underwriting tolerances and DON'T overprice your listings in this nationally weaker market. Home Appraisers need "true comps", not home sales that support your pending price per sq. ft.. Remember that today's home appraiser is generally required to use 4 solid solds and 2-3 listings in their reports. Most Important is to keep your work file of the comps used to market the property when listed. Nothing is more obvious to the appraiser when they contact an Agent to request your comps and that Agent THEN gets on MLS to find some kind of support for that listing price they put on their listing.

Bill Cobb is Greater Baton Rouge's Home Appraiser frequently called upon by banks, homeowners, and savvy real estate investors to assess property values. A home appraiser with 20 years experience, Bill Cobb brings a wealth of knowledge to the table as a home appraiser.
Bill's company, Accurate Valuations Group, serves Greater Baton Rouge (East Baton Rouge Parish, West Baton Rouge Parish, Western Livingston Parish and Northern Ascension Parish).
Contact Bill Cobb and Accurate Valuations Home Appraisal Group for your next home appraisal:
Office: 225-293-1500, Cell: 225-953-0638
Fax: 1-866-663-6065
[email protected]
https://www.accuratevg.com/