http://www.appraisersinbatonrouge.com/ – Baton Rouge Real Estate: How Is Park Forest East Subdivision Performing Into 2011, Increasing, Declining or Remaining Steady? Since the Federal Tax Credit Expiration in May 2010, the number of home sales has declined considerably. And, so has the number of foreclosures. With fewer sales and more foreclosures, this increases the percentage of the number of sales as foreclosures.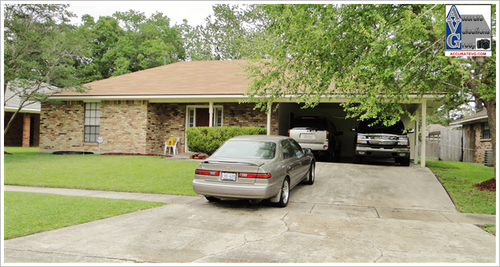 This is an on-going series into the decline of Greater Baton Rouge Home Values and why potential buyers should beware and not pay too much for "some" local overpriced listings. YES, there are overpriced listings in the Greater Baton Rouge Housing Market! Bill strongly recommends in this housing environment to obtain a Pre-Purchase Appraisal to gain ALL of the facts before making a local home purchase decision.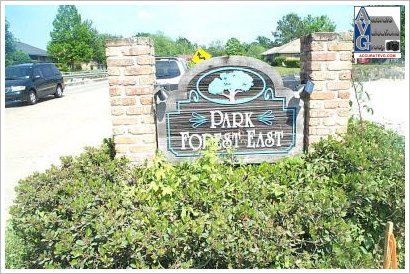 A recent home appraisal in and analysis of Park Forest East revealed this interesting finding. From 2009 to 2010, the median sales price remained stable at $135,000. However, in 2011, based on 3 sales, 2 of which were foreclosures, the median sales price has slipped to just $81,000. Again, this is only based on 3 sales in the first 4 months of 2011. In 2010, there were 11 total sales. Again, this drop is due to foreclosures and/or distressed sales.
THE CORRECTION IN HOME PRICES – This is becoming the familiar "Stair Step Up and Stair Step Down"…..The Climb And Then Descent Of The Stairs In This Chart Below Visually Explains The Correction! And, so does the chart below it showing a major correction.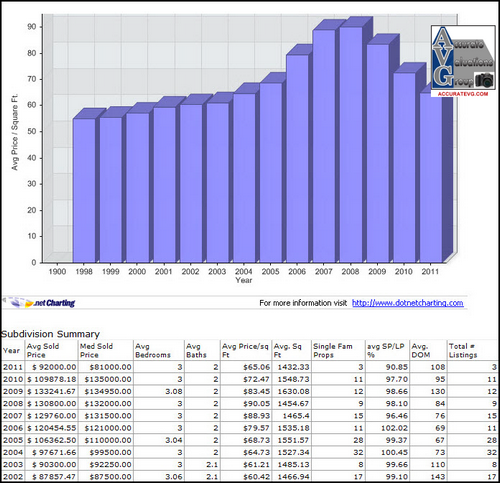 The Chart below shows a considerable correction since May 2010 for home comparable to a 1,400sf in Zip 70814.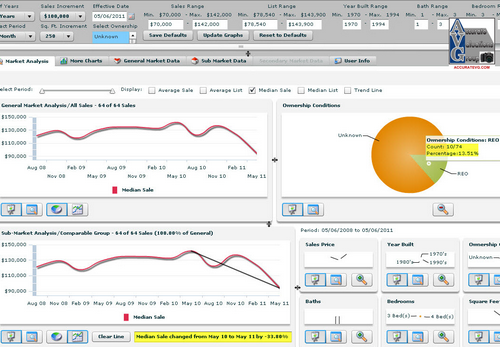 CURRENT LISTINGS. There are 9 current listings from $99,500 to $140,000 with 7 active and 2 pending. The Average Price per sq. ft. listing is $85.48/sf, which is too high. If you examine the chart above, 2009 and 2010 support was at $83/sf and $72/sf. And, CoreLogic tells us that Baton Rouge is in its' 7th straight month of declines. So, this average $85.48/sf is far too high. Why are these 7 listings, in 2011, priced above 2009 and 2010 when the market was stronger then. The 2 pendings average $65.69/sf.
NOTE: Based on information from the Greater Baton Rouge Association of REALTORS®\MLS for the period of January 1, 2005 to May 6, 2011. This information was extracted on 5/6/2011. YES, permission was granted by GBRMLS to use Subdivision Price Trends Chart Report!
AUTHOR'S BIO:
Bill Cobb is Greater Baton Rouge's Home Appraiser frequently called upon by banks, homeowners, and savvy real estate investors to assess property values. A home appraiser with 20 years experience, Bill Cobb brings a wealth of knowledge to the table as a home appraiser.
Bill's company, Accurate Valuations Group, serves Greater Baton Rouge (East Baton Rouge Parish, West Baton Rouge Parish, Western Livingston Parish and Northern Ascension Parish).
Contact Bill Cobb and Accurate Valuations Home Appraisal Group for your next home appraisal:
Office: 225-293-1500, Cell: 225-953-0638
Fax: 1-866-663-6065
[email protected]
https://www.accuratevg.com/