http://www.denhamspringsappraisers.com/ – Denham Springs Home Appraisers: Summerfield Sudivision 2010 Price Trends Report!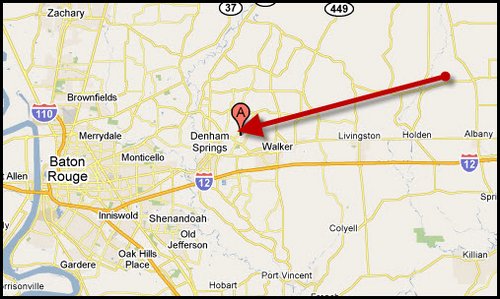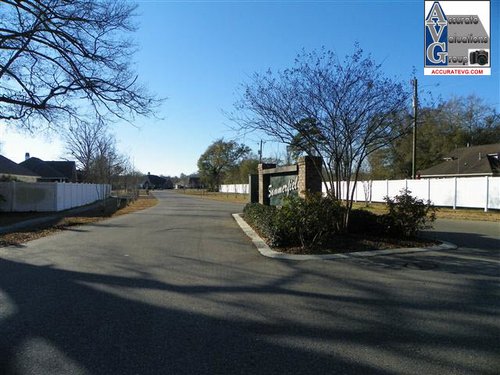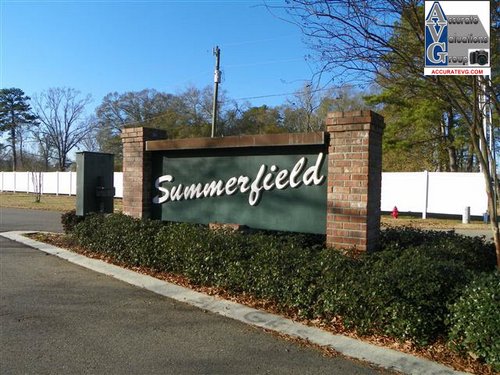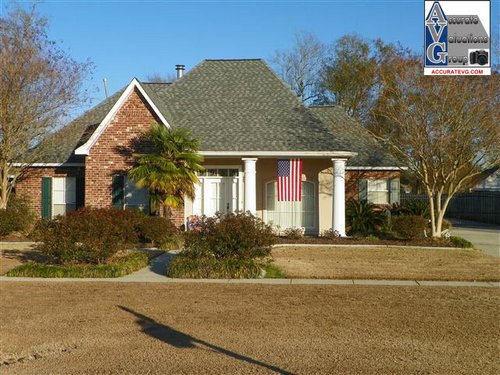 NOTE: If you are considering purchasing a home in Summerfield Subdivision and don't want to pay too much, I would advise one to order a "Pre-Purchase Appraisal" from Accurate Valuations Group as there is a gradual and steady decline of home prices in Summerfield since 2007 meaning one shouldn't overpay for a home in Summerfield. REO or Foreclosure and Short Sales activity is increasing in Summerfield in 2010 and into 2011 as this appraiser just this week appraised a foreclosure on Summerfield Drive.
And, there is one (1) listing in Summerfield that is now pending and the listing history of this home brings the declining home prices to my attention. This is a nice 1,813sf home in good condition now listed at $170,000. This home was originally listed for $209,900 in 7/2010 and reduced to $199,900, $195,000, $189,000, $185,000 and now $170,000. It took 148 days on the market to sell this home. If this home sells for $170,000 for an 1,813sf, that would be a new benchmark low for 1813sf in this market. YES, this is a "Short Sale", however, the market didn't want this home at these high listing prices whether a short sale or not!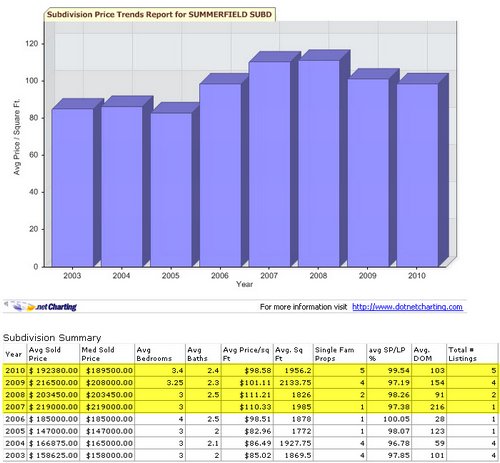 Solds In Summerfield Subdivision from 1/1/2010 to 12/31/2010 revealed:
Average Sales Price: $192,380 ($216,500 in 2009)
Avg Sold $ Per Sq. Ft.: $98.58/sf ($101.11/sf in 2009)
Median Sold Price: $189,500 ($208,000 in 2009)
Number of "MLS" Sales: 5 (4 in 2009)
Average Number of Days On Market: 103 (154 in 2009)
Low To High: $168,000 to $221,500 or $82/sf to $109/sf
Number of Sold REO/Foreclosures Noted In MLS: 1
Current # Listings: 1, 0 Are Foreclosures
Current Listings Price: $170,000 or $93.77/sf.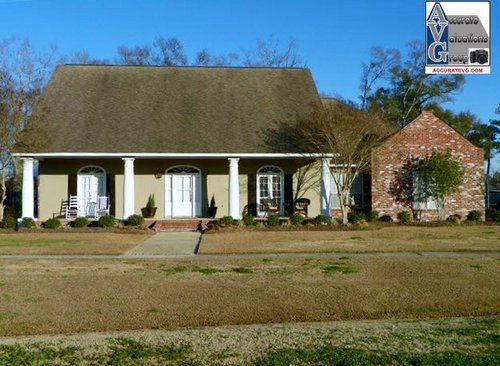 NOTE: Based on information from the Greater Baton Rouge Association of REALTORS®\MLS for the period of January 1, 2009 to December 31, 2010. This information was extracted on 1/10/2011. Yes, this appraiser has obtained permission from GBRAR MLS to use the above pricing chart!
Tags: Baton Rouge Real Estate, denham springs homes, denham springs homes for sale, denham springs houses, denham springs housing, Denham Springs Real Estate, denham springs real estate agents, denham springs realtor, denham springs realtors, Summerfield