ABOUT PORT ALLEN LOUISIANA!
Port Allen Louisiana Information Page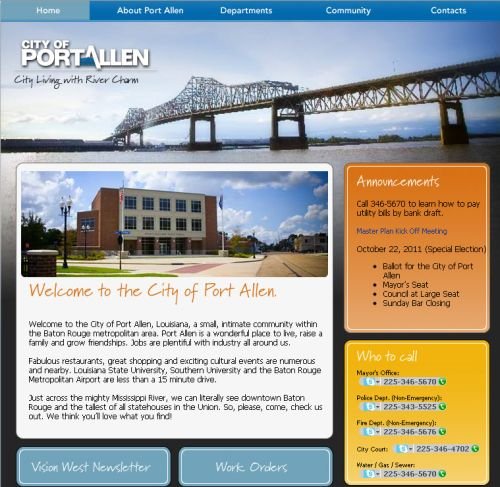 Port Allen Louisiana
Raising a family also entails that you need to have a perfect place to settle down. And if you happen to live around Baton Rouge Louisiana, the Baton Rouge Real Estate can help you to decide which place to raise your family. If you want to have a quiet community but with all the advantages of a city life like great schools, recreational centers, shopping malls, an airport and a lot more, then Baton Rouge Real Estate can bring you to the city of Port Allen Louisiana.

The city is the parish seat of the West Baton Rouge Parish. This is the parish best known for its school systems you surely would like to send your children to. And with Louisiana University nearby, you can be rest assured that education is at its best in the city.
Not only this, Port Allen is the home of wonderful festivals like the 'Oldies but Goodies Fest', the bonfires at the bank of the Mississippi river and a lot more. These festivities will allow you and your children to have a break from school and work and enjoy family time together.
Aside from the city's amenities, you can also enjoy so many tourist attractions like the Museum, Railroad Depot, the Port Allen Rock and a lot more. And with the city's view of the Mississippi River, city's life is spiced up with the wondrous display of nature. The massive river holds a lot of attraction like its deepwater navigation and its riverfront development.
This is an ideal place to start a family, an intimate and quiet community with everything a city can offer. You can always visit the city and stay at its best hotels. Enjoy the city as a guest while thinking about the prospect of living here. And when you do, Baton Rouge Real Estate will show you how you can live a full life with your family here at Port Allen, Louisiana.
According to Port Allen Dot Org:
"Port Allen is strategically located between Interstate 10 and US Highway 190 on the west bank of the Mississippi River. Port Allen is the governmental center of West Baton Rouge Parish, and offers many goods and services to its residents and others located in rural areas of the parish.
Having taken pride in its schools, Port Allen keeps tradition and high technology working in harmony. Several of Port Allen's schools have undergone significant renovations. Port Allen Middle School has recently been placed on the National Register of Historic Places. Constant updating of academic programs prepare Port Allen's young people to meet the new century with open arms.
An excellent transportation system of highways, bridges, railroads, and navigable waterways enable the City of Port Allen to flourish."
Port Allen Louisiana Information Page