Baton Rouge Real Estate: Springlake At Bluebonnet Highlands New Home Construction Raises 2009 Median Sales Price
Chart #1 includes ALL solds from November 2008 to November 2009 YTD indicating a +7.36% increase in median sales price. ALL home sales includes both new home construction sales and existing home sales.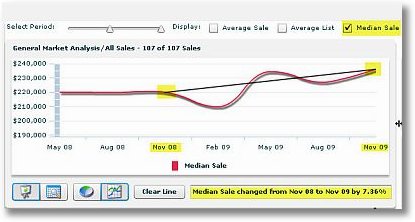 Chart #2 includes ONLY solds of existing homes from November 2008 to November 2009 YTD indicating a -0.66% decline in median sales price.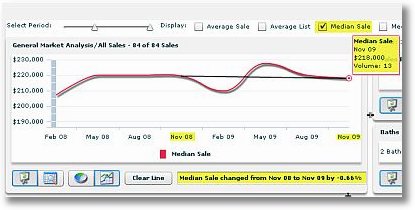 Current Listings. Currently, there are 29 listings within Springlake, from $196,900 up to $288,900. Of these listings, 15 are new construction and 14 are existing homes. The Average Listing Price is $238,655, Average Listing Price Per Sq. Ft. is $139.56/sf, Median Listing Price $239,500 and Average Days On Market 104 days. FSBOBR.com indicates 11 more current listings in Springlake from $198,000 up to $265,900. Assuming the 11 FSBOBR.com listings are not listed in MLS, that would total 40 current listings in Springlake, which would appear to be an oversupply and possibly the reason that the existing median sales price basically didn't increase from 11/2008 to 11/2009.