http://www.batonrougerealestateappraisal.com/ – The Brookings Institute Ranks Baton Rouge Economy Number 8 Best In U.S. – Fantastic News For Baton Rouge Real Estate

I was at McDonalds this past week eating breakfast before appraisal inspections and ran across this Great News for the Baton Rouge Economy and Baton Rouge Real Estate Housing Market. In the article, the Brookings Institute ranks the Baton Rouge Economy The #8 Best in the U.S.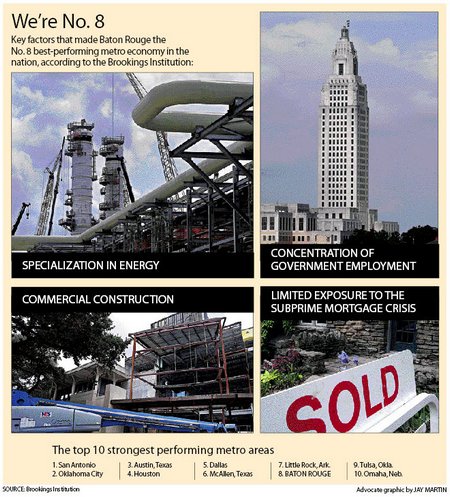 The link to the article is here: http://www.2theadvocate.com/news/48215657.html
Here's a snippet as directly quoted:
"The Brookings Institution, among the nation's most-influential policy groups, ranks Baton Rouge No. 8 among the 100 largest U.S. metropolitan areas for economic performance during the recession.
For Baton Rouge, the Brookings findings echo what the region's chamber has been telling business prospects for months: Things are better here.
"This is the most comprehensive study we've seen, and it validates how strong our economy really is," said Adam Knapp, chief executive of the Baton Rouge Area Chamber, which has scrutinized every blip in the economy since September for signs of the 18-month recession's encroachment into the region."
Bill Cobb is a Louisiana State Certified Residential Appraiser operating as Accurate Valuations Group in the Greater Baton Rouge Market. Bill has 17 years experience as a residential appraiser and carries on the family appraisal career tradition as a third generation appraiser. To learn more about AVG, visit: http://www.batonrougerealestateappraisers.net/