http://www.denhamspringsappraisers.com/ – Denham Springs FHA Appraisers Study: Livingston Parish Housing Bucks National Trend Plunge Of 15 Year Lows!
This morning, "The Guys" from TBWS reported existing home sale fell 27.2%, the lowest number of sales since 1968, see the video below.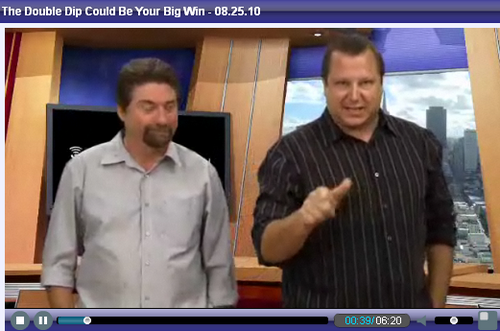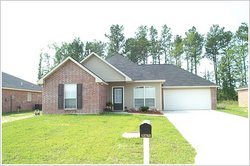 The Baton Rouge Business Report is reporting on a National Assocation of Realtors housing study and I quote: "Sales of previously occupied homes fell to the lowest level in 15 years last month as the economy weakened. The National Association of Realtors says July's sales fell by more than 27% to a seasonally adjusted annual rate of 3.83 million. It was the largest monthly drop on records dating back to 1968. June's sales pace was revised downward to 5.26 million. Home sales picked up in the spring when the government was offering tax credits. But the market has struggled since the tax credits expired on April 30. It would take 12.5 months to sell off the 4 million unsold homes on the market at the current sales pace. The median sale price was $182,600, up 0.7 percent from a year ago." I have included three charts below from Mortgage News Daily's July Existing Home Sales: Recap and Charts to help put this in perspective. I then discuss the local Baton Rouge Housing Market Numbers.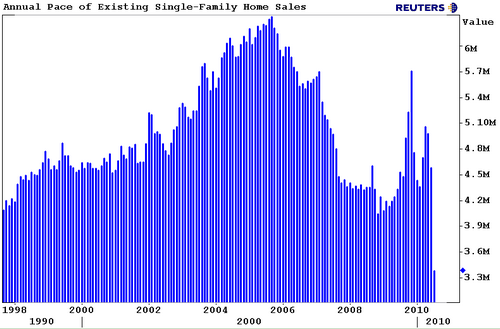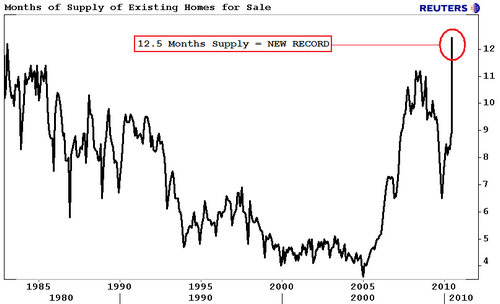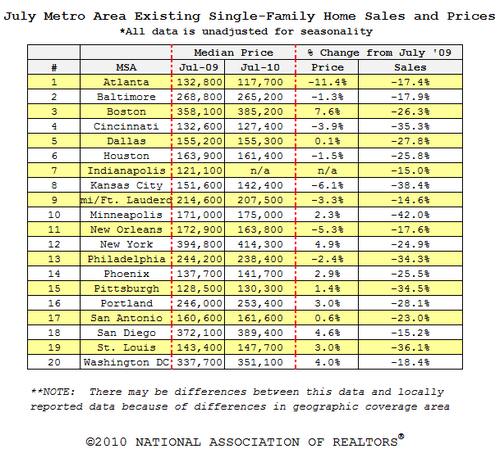 While the NAR study covers the entire U.S., how do the local Western Livingston Parish housing sales numbers compare? By Western Livingston Parish, I'm defining Denham Springs, Watson and Walker, MLS Areas 81, 82 and 83, the more active portion of Livingston Parish. The answer is that I see Western Livingston bucking the national trend. Within the Greater Baton Rouge Association of Realtors data extracted from 1999 through August 25, 2010, covering almost 12 total years, the lowest yearly rate of home sales was in 1999 with 759. As of 8/25/2010, there have been 654 home sales. If this pace of home sales continues, 2010 projections will be approximately 980 sales, which would conclude a healty housing market.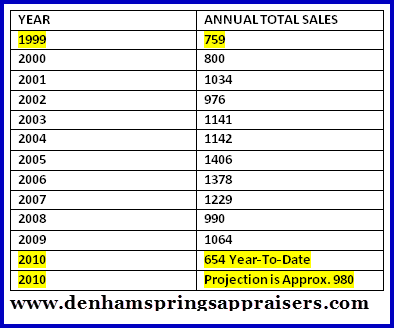 The chart below, extracted from data from the GBRMLS on August 20, 2010, shows that the median sales price in MLS Area 81, Denham Springs north of Interstate 12, has continued to remain stable to increasing slightly. The chart actually shows an increase in median sales price from 8/2009 to 8/2010 of +3.49%. The chart also shows a fairly low 7.4% REO or Foreclosure Rate for this market as well, 235 foreclosures out of 3,175 homes sales since 1/1/2004.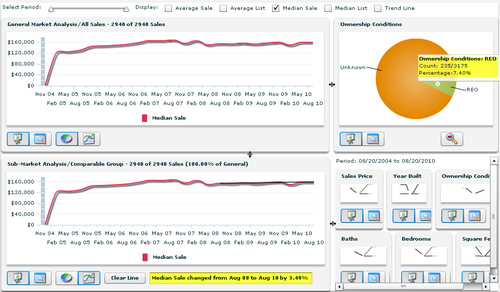 HOWEVER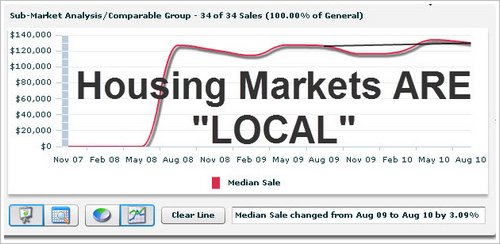 I want to responsibly point out that just because the NATIONAL "number" of home sales have been declining in 2010 doesn't mean the LOCAL "housing prices" are equally declining significantly! And, this is an important point. As a home appraiser, the one thing I hear from local homeowners is a misunderstanding of the local market. They say things to me like, "I know this is a horrible time to be refinancing and getting an appraisal with the housing market the way it is, but we just couldn't pass up the low mortgage rate". I hear this constantly from locals and you can't watch the national news and apply that to our local market. Linda Fredericks, former President of the Greater Baton Rouge Association of Realtors, is correct when she delivered the message that housing marketings are "local" and you can't apply the national news headlines to a one size fits all local housing market!
Take The Baton Rouge Business ReportPoll: When will the U.S. housing market recover? So far results are:
NOTE: Data Used With Permission of the GBRAR MLS. Data was extracted on 8/25/2010 from periods 1/1/2009 through 8/25/2010.
Tags: Western Livingston Parish, Denham Springs Housing Study, Denham Springs Real Estate, Watson Louisiana Housing Study, Walker Louisiana Housing Study